"Rethinking The Warehouse Workplace"

Engineered Certified Racking Repairs

All repairs are performed by D.C. Racking and Maintenance.


<![if !vml]>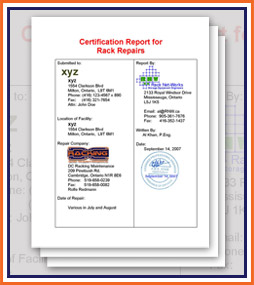 <![endif]>We as a company specialize in the repair and maintenance of racking. We provide photos of before and after pictures to the work performed by our qualified technicians and "Engineered Approved Reports" of each completed job sent directly to our customers. This report reviews photos provided by the technicians and makes a determination as to whether the repairs are adequate.

Repairs to racks are modifications that must be treated rigorously with a formal approval as required by Section 7 of Regulation 851. Subsection (2) of Section 7 of Regulation 851 states when a Pre-start Health and Safety review is triggered. A Pre-start Health and Safety Review is triggered when: (b) because an existing apparatus, structure, protective element or process is to be modified and one of the following steps must be taken to obtain compliance with the applicable provision:
New or modified engineering controls are used.

Other new or modified measures are used.

A combination of new, existing or modified engineering controls and other new or modified measures is used.
In most cases, the rack membets that have been repaired, which is a structural modification as specified in (b) above. Our reports satisfies the requirement of Section 7 because it is written and sealed by a Professional Engineer registered in the province of Ontario as required by Subsection(11) of section 7 which states: (11) A pre-start health and safety review required under item 1,2,3,4,5,6 or 7 of the table shall be conducted by a professional engineer.
PROCEDURE
D.C. Racking and Maintenance technicians that do the repairs are required to document several stages of the repair. The prime tool for documenting the repair is a digital scanner. In general each repair is documented with up to six photos. One or two photos are provided for each stage of the repair. The three stages of repair are as follows:
The first set of photos document the condition prior to the repair process. This stage is titled "before".

A second set of photos is taken after the severity of damage has been alleviated by manually working the metal to bring it close to its original shape. This stage is titled "interim".

The third set of photos is taken after the repair device has been installed. This photo is titled "after".

All repairs are then marked with a serialized ID tag (stickers) that are referenced in certification reports.
CERTIFIED REPAIRS
Each Repair is individually certified by a Professional Engineer
Brace repair very common

Front post repair common
<![if !supportLineBreakNewLine]>
<![endif]>
A professional rack engineer reviews the photos documentation of the repair part and the installation of the repair part, then issues the "Certification Report" for each individually certified repair.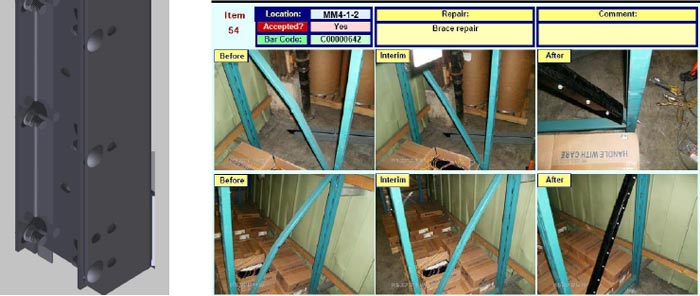 Advantages of Repairing vs. Replacing
The frame repair option is attractive in that the apparatus can be easily installed and the resulting configuration is considerably more durable than the original frame. In addition, the process of doing the repair is much less disruptive. Also to consider when doing frame replacement is the cost of scissor lift rentals, which can be very expensive, whereas repairs to the bottom of the frame does not require any equipment rentals. Repairs can be painted to match existing racking.
<![if !vml]><![endif]>

If moving rack it can be repaired and certified

Repairs are marked with serialized ID tags (stickers) that are
referenced in certification report

Typical repair for damaged braces

Where weld is damaged brace extension required

Missing braces can easily be repaired rather than replacing the end frame